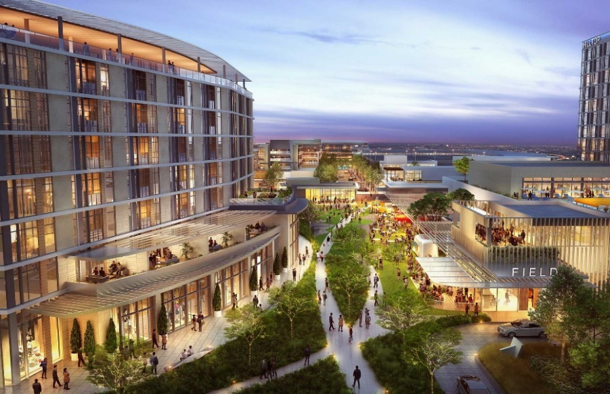 Have you noticed how successful the Domain is? Or Mueller? Well, it's a mixed-use concept that works well and people love it.
It's growing in the suburbs! Less traffic, pedestrian-oriented and all the shopping and restaurants as downtown??? Let's hear about it.
Here's a look at Austin's planned Suburban Mixed-Use Developments.
Cedar Park – Indigo Ridge
Indigo Ridge's design is inspired by the area's natural limestone formations, while paying homage to the farming/ranching lifestyles of immigrant families who settled the area, including the original family of landowners, the Borho's. Indigo Ridge is looking to counter traditional prevailing suburban cookie cutter developments with distinct and walkable network of streets and green pedestrian paths that will tie together blocks of offices, multi-family residences, sports facilities, and a retail/entertainment district. Indigo Ridge plans to do this while also paying homage to the Borho's with one of the eight neighborhoods being Borho Street.
Located a few miles to the east of Cedar Park's downtown core at the intersection of Whitestone Boulevard and County Road 175.
- 155-acre Mixed Use Development
- $1.5 Billion Project
- +5 Million SF of Office Retail, Residential, Hotel & Entertainment
- Home to U.S. Tennis Association Texas (USTA) to include five-story sports performance center. USTA's facilities will also include 40 tennis courts, a stadium court and other amenities.
- Expected to bring $138.82 million of net new revenue to the city over a 20-year period, potentially taking pressure off property taxes for residents.
- On March 14,2019 the Cedar Park City Council approved a memorandum of understanding for the 155-acre Indigo Ridge project.
Hutto – Perfect Game Headquarters
Perfect Game will be moving their headquarters from Cedar Rapids, IA to Hutto, TX. The project—a partnership between Perfect Game, developer Wolverine Interests, Sports Facility Advisory and Sports Facilities Management and the City of Hutto—will bring $800 million in private investment. The public-private partnership is set to transform the City of Hutto into one of the top scouting destinations in the U.S. The city plans to leverage a tax increment reinvestment zone to improve Hutto's infrastructure.
Located next to Fritz Park at U.S. Highway 79 and County Road 132.
- $800 Million Project
- Indoor Sports & Events Center
- Seats 13,000
- 24 baseball fields
- Convention Hotel – sports venue and hotel combined demand for more than 150,000 hotel room nights annually
- Single largest economic development in history of Hutto
Perfect Game, Nation's flagship baseball scouting organization, has signed a 30-year lease with the city of Hutto. The new venue in Hutto will join the largest collection of sports tourism destinations in America and will be a great draw for tens of thousands of overnight stays annually and create a great Central Texas attraction.
According to the Austin Business Journal, the development is expected to generate $5.1 million in property taxes and $1.5 million in sales taxes annually. The city will create a tax increment reinvestment zone so that 60 percent of the property taxes can be reinvested into infrastructure work such as building fields, roads, utilities and garages.
Perfect Game aims to finish all fields by Memorial Day weekend in 2021 and Wolverine Interests expects to have the first residential project completed by that time as well.
Georgetown – Wolf Lakes Village
The Wolf Lakes Village design consultant has a unique development strategy called Neo-retroism, which means the recreation of old-world village characteristics in a new world development environment. Landowner and developer Wolf Lakes LP wants to create a place for people to live and work, modeled after a classic Italian village. The stone on the streets, the central plaza, the arched bridges and a thousand other special historical touches will transport people to another place and time and make them feel like they are somewhere else they want to be. According to the Austin Business Journal, it's also significant for Georgetown as a potential corporate magnet in what has been traditionally known as a bedroom community.
Located near I-35 and State Highway 29
- $978 Million Project
- 5.3 Million SF
- 164-acre Project
- 2,400 Residential Units
- According to Community Impact, the multifamily housing was anticipated to start in 2019 with retail, commercial and office development to follow.
Round Rock – The District
California-based development firm Mark IV is investing in Round Rock's first multi-use development, The District, to attract tech headquarters looking to recruit millennials – providing an affordable alternative to downtown Austin and The Domain.
Located off I-45 and Greenlawn Blvd.
- $200 Million Project
- 65-acre Project
- 1 Million SF of Class A Office Space
- 900 Residential Units
- Expected to bring $1.5M in annual tax revenue, and 5,000 jobs.
- According to Community Impact, the groundbreaking was to originally set for 2019, but the development is still is in the planning phase.
Round Rock – Kalahari Resort & Convention Center
Kalahari Resort, a new African-themed waterpark and convention center currently under construction, will be a vacation destination for Round Rock, as well as families and convention guests from across the state and across the country. According KSAT.com new renderings show it will be "America's largest indoor waterpark". Kalahari Resorts LLC also operates resorts and water park locations in Wisconsin, Ohio and Pennsylvania.
Located across from the Dell Diamond and Old Settlers Park
- $550 Million Project
- 350-acre Project
- 1.5 Million SF Resort
- 200,000 SF Convention Center
- 1,000 Hotel Rooms
- 223,000 SF Indoor Water Park
- 80,000 SF Adventure Park
- 3 acres of Outdoor Pools
- Five restaurants including Kalahari's signature steakhouse, Italian and Tex-Mex experience
- Spa Kalahari and Salon
- 10,000 sq. ft. of Retail Space
- Kalahari Resort broke ground in May 2018 and is scheduled to open in November 2020.
Pflugerville – Northpointe
Located on 120 acres straddling Highway 130. The larger of Northpointe's two tracts is 81.2 acres at the northeast corner of Pflugerville Parkway and FM 685, while the other is 38.1 acres on the east side of SH 130 south of Hendrickson High School.
- 120-acre Domain-like Project
- Mixed-Use Development
- Up to 4,000 Residential Units
- According to KVUE, the developer says its plans to break ground in 2020, but before it does that, it still has a few hurdles to clear. The developers hope to have the public improvement district and tax increment reinvestment zone provisions for the project finalized January 2020.
Kyle – Uptown
Uptown Mixed-Use Concept Drawing
Keeping it unique to Kyle, its history and honoring veterans and first responders who so bravely serve the country and community, Uptown Kyle will include Heroes Memorial Park. The memorial is the first project expected to open on September 11, 2021.
Located off Kohlers Crossing and FM 1626
- Mixed Use Residential & Commercial Development
- Hotel Convention Center, Class A Office Spaces, Soccer Complex and dozens of Retail Stores and Restaurants.
- Using Domain's phase II designer
- Council members approved the start on three-related projects January 21st, including a new police headquarters, and two parks: Central Park and Heroes Memorial Park. These are now in the design and budget process.
- The City of Kyle has received donated land for the police headquarters, Heroes Memorial Park, Central Park, office complex and the hotel convention center.
- According to KXAN, Mayor Travis Mitchell estimates Heroes Memorial to cost about four to five million dollars. They may also use $2.7 million-dollar settlement from Permian Pipeline company Kinder Morgan. The city also received a $1.5 million-dollar donation from TDS. Any leftover costs for the memorial might go into a bond proposal for the new police headquarters, which is expected to cost about $30 million.
- Most of these developments are in the development phase, but when completed each will help increase jobs, keep suburban areas attractive to homebuyers/workforce, continue to increase businesses starting and relocating to Austin, as well as will increase Austin tourism. All of which will stimulate Austin's economy.
SOURCES:
CBSAustin.com – https://cbsaustin.com/news/local/austin-named-one-of-the-most-traffic-congested-city-in-the-world
Strongtowns.org – https://www.strongtowns.org/journal/2019/7/9/how-i-learned-an-urban-lifestyle-does-not-imply-living-in-a-huge-city
Community Impact – https://communityimpact.com/austin/leander-cedar-park/city-county/2019/03/14/breaking-cedar-park-initiates-possible-60-million-incentive-package-for-indigo-ridge-north-u-s-tennis-association/
Austin Business Journal – https://www.bizjournals.com/austin/news/2019/03/15/first-look-huge-cedar-park-development-takes-shape.html
Cedar Park – https://www.cedarparktexas.gov/
Cedar Park Department of Economic Development – https://cedarparktexasedc.com/
Cedar Park Economic Development Projects –https://www.arcgis.com/apps/MapJournal/index.html?appid=17d296121fcf4283a1cb7b5239205302#
MarketWatch.com – https://www.marketwatch.com/story/the-best-affordable-places-to-live-in-texas-2019-09-09
Indigo Ridge – https://experienceindigoridge.com/
Austin Business Journal – https://www.bizjournals.com/austin/news/2019/04/19/13-000-seat-arena-hotel-pegged-for-hutto-in.html
Commercial Property Executive – https://www.cpexecutive.com/post/theres-a-new-800m-ball-game-in-hutto-tx/
Austin Business Journal – https://www.bizjournals.com/austin/news/2019/08/02/co-op-developer-plans-anothermixed-use-project-in.html
Austin Business Journal – https://www.bizjournals.com/austin/news/2019/12/12/something-bigger-than-apple-experts-weigh.html
Austin Business Journal – https://www.bizjournals.com/austin/news/2018/12/12/wolf-lakes-village-georgetown-zoning-approval-tirz.html
Community Impact – https://communityimpact.com/austin/georgetown/development-construction/2019/10/21/164-acre-wolf-lakes-village-will-not-likely-see-groundbreaking-in-2019/
Austin American Statesman – https://www.statesman.com/news/20181128/georgetown-to-give-91-million-to-help-develop-wolf-lakes-village
Community Impact – https://communityimpact.com/austin/development-construction/2019/01/15/whats-ahead-in-2019-wolf-lakes-village-nears-groundbreaking/
Wolf Lakes Village – https://www.wolflakesvillage.com/
Community Impact – https://communityimpact.com/austin/round-rock-pflugerville-hutto/development-construction/2019/02/14/the-district-development-in-round-rock-moves-forward-expected-to-bring-1-5m-in-annual-tax-revenue-5000-jobs/
Austin Business Journal – https://www.bizjournals.com/austin/news/2018/05/15/kalahari-resort-center-breaks-ground-round-rock.html
Businesswire.com – https://www.businesswire.com/news/home/20180515006520/en/
Kalahari Resorts – https://www.kalahariresorts.com/texas/
Ksat.com – https://www.ksat.com/news/texas/2020/02/11/new-renderings-show-americas-largest-indoor-water-park-slated-to-open-in-texas-in-2020/
Austin Business Journal – https://www.bizjournals.com/austin/news/2019/10/31/first-look-plans-for-kyles-uptown-come-into-focus.html
KVUE – https://www.kvue.com/article/money/economy/boomtown-2040/northpointe-pflugerville-development-approved/269-714764c5-0571-4482-bc99-04a1d990ae3f
KXAN – https://www.kxan.com/news/local/hays/kyles-billion-dollar-uptown-area-moves-forward/
Tandy on Real Estate – https://tandyonrealestate.com/central-texas-suburbs-on-the-rise-round-rock-cedar-park/