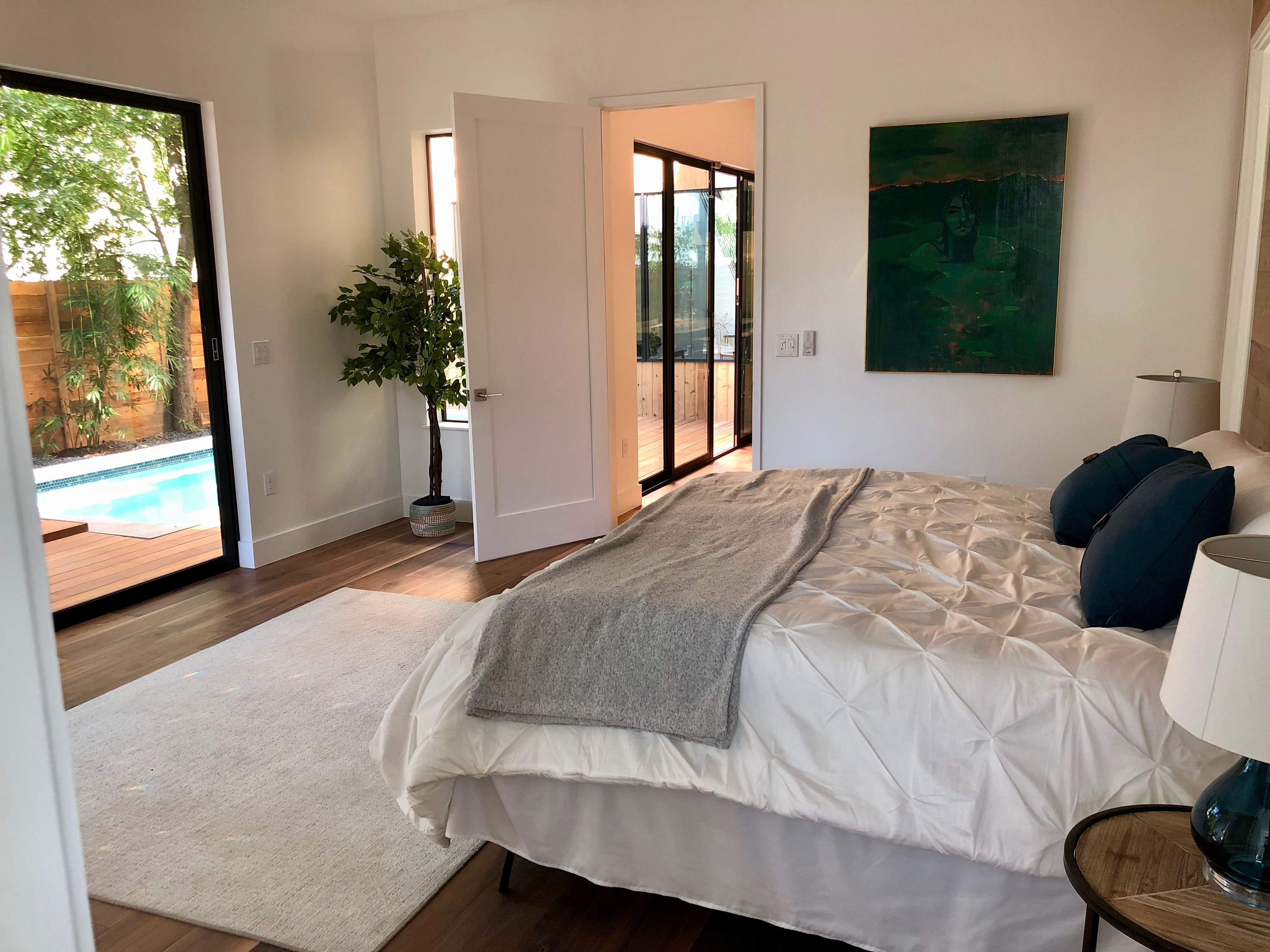 Toast to the New Neutrals
The go-to look of the last few years has been all about white – white shiplap walls, white backsplashes and white countertops. Now it's time to goodbye to those stark kitchens with the new go-to palette of soft bone, champagne and taupe hues taking the lead. This change of pace is sure to make your furnishings, décor and architectural details the centerpiece of the room.
Pops of Color
If you don't find subtle colors very interesting, don't fret as high-contrast designs are having a moment, too. While you need to be mindful not to oversaturate a space with too much color, thoughtful additions are trending in 2020. For example, add a pop of color in the kitchen with lower cabinetry in a bold color like cobalt blue or create a dramatic look with colorful, patterned accent tile on your kitchen backsplash. Or, go all in with the dramatic style of oversized black and white tile on the floor of your master bath.
Cutting Edge Countertops
Gone are the days of dramatic, dark flecked countertops; instead, quartz countertops mimicking marble are making a splash in both the kitchen and bathroom. This durable material offers the same sleek and seamless look of the real deal without the maintenance of real marble.
Light Up 2020
Just as daylight is a big influence, warmer weather also brings more people out to tour homes. The frosty temperatures of December keep buyers in hibernation. Plus, the summer months also feature lush, green grass and gardens with flowers, making your curb appeal more attractive compared to the bare trees of winter and dormant grass.
Furniture Imitates Art
There's a lot of interest in furniture that is not only functional but serves double duty as art. This trend leads the way for a move toward more sculptural pieces. We're not just talking about the curved sofa that's been popular the last few years. The ante has been upped with a more modern look that incorporates unique, one-of-a-kind pieces – whether it's a side table, chair or console made from everything from boucle, sisal, canvas, natural wood, fish scales and more.
Cabinets… Out the Door
While closed cabinetry is a well-utilized staple in the bathroom to hide all those personal items like deodorant and cleaning supplies, there is a big movement toward adding open shelving. It's a great way to have those grab-and-go essentials in easy reach like towels and soap. And, with a little creativity, you can make it look very stylish by adding baskets to corral items like soap or cute clear containers for items like cotton swabs.
Go ahead with this clear vision of design trends that we'll soon be seeing popping up in homes across the country throughout 2020!